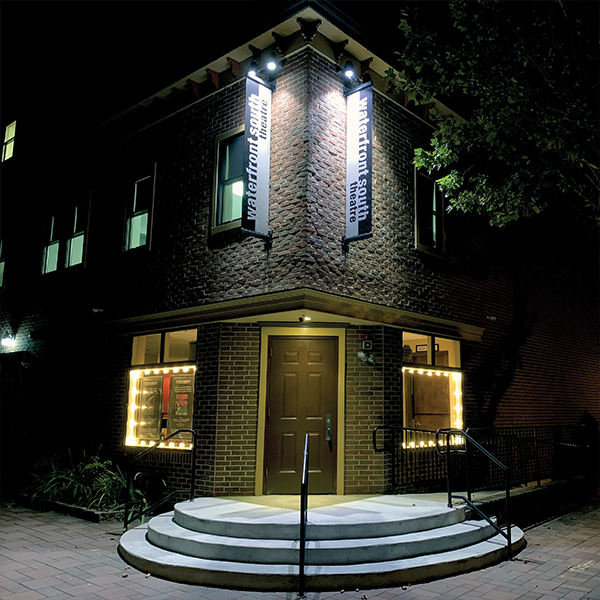 An Entertainment Destination That Is Available For Your Use
The Waterfront South Theatre was first opened in 2010. It was conceived under the direction of the Heart of Camden, a neighborhood restoration group. Since it's opening, we've hosted theatre seasons, fundraising events, neighborhood movies, neighborhood events and meetings, reading groups, poetry groups, and so much more. Many thousands have come through our doors to enjoy great, live entertainment. As we grow, we hope to have more events by and for our neighbors in Camden and the areas around the theatre. It's important to note that The Waterfront South Theatre is the first theatre built in Camden, New Jersey in more than 100 years.
Contact Jordan Feld for usage information. CLICK HERE to send him an email.
The Goal
We are working to become a year-round event destination in the City of Camden. As the resident theatre group, South Camden Theatre Company's board of directors is responsible for the ownership and upkeep of the building. We pride ourselves on maintaining a beautiful space that is open and welcoming to everyone from across the Delaware Valley. Watch us as we grow. The Waterfront South Theatre is becoming South Jersey's entertainment destination.
The Space
The building is approximately 6,000 square feet in total. The first floor is completely accessible and holds our lobby, the Domenica Hall auditorium, a box office, lighting and sound booth, a concession area and accessible restrooms.
Our stage is small but accommodates nicely-sized sets for plays, music groups, and special events. The stage has an 8-inch rise, and the seating is slightly sloped for better viewing. We have one side wing for entrances and exits to and from the stage. There is no backstage space. The auditorium seats 96 comfortably with additional ADA accessible seating spaces for 4 wheelchairs or larger seating. Our seats are roomy and comfortable with plenty of legroom in front of your seat.
The Waterfront South Theatre Location
The theatre sits on the corner of 4th Street and Jasper Street (Michael Doyle Lane), just one block west of Broadway and Ferry Avenue in the Waterfront South neighborhood of Camden. The area is a mix of housing, non-profit arts groups, and businesses.
You can reach us by car or public transportation. When visitors come to The Waterfront South Theatre, they generally park on the street or in one of two public parking lots. There is one parking lot between the Sacred Heart Church and the Sacred Heart School. There is another well-lighted lot that is located just one block away on Broadway at Ferry Avenue.
Use the location map below to find out how best to get to the theatre from your location.
We look forward to seeing you in the audience and hosting your event here at The Waterfront South Theatre.
A Visual Guide To The Waterfront South Theatre
The Waterfront South Theatre
The Waterfront South Lobby (12′ x 26′)
Domenica Hall Auditorium (42′ x 24′)
The Waterfront South Lobby Box Office
The Walt's Cafe Concession Area (12′ x 16′)
Our History Hall(way) Of Fame
Accessible Restrooms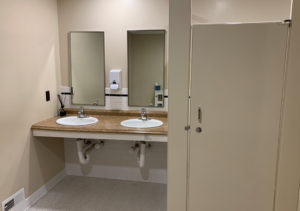 Theatre Company Office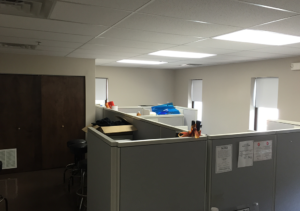 Actor's Lounge
Rehearsal Hall (24′ x 42′)
The Specifications
Our lobby is: 26′ wide by 12′ deep
The concession space is 16′ x 12′ and set up as the original "Walt's Cafe" with a front and back bar, running water, and a wine/water refrigerator
Auditorium Size: 42′ deep by 24′ wide
There are 4-foot wide aisles down the center and across the front of the auditorium
Seating includes 96 seats, with 4 additional ADA accessible spaces that accommodate wheelchair access
Our ticket booth includes an internet-ready computer and a complete video monitoring system
The electrical booth houses an electrical dimmer for 48 lighting instruments, a sound system, and projection equipment
The stage itself is 24′ wide by 15′ deep and is equipped with microphones designed to broadcast to the upstairs dressing room(s)
The proscenium is 10′ high
There is a complete pipe rack system 20′ above the stage that holds curtains, lighting equipment, and anything that needs to be hung or flown
Our backstage/side stage space is small but works well for stage productions and events
The men's and women's rooms are both ADA accessible spaces and are clean, bright and well-maintained
The second floor of the theatre has a fully-equipped office space (24′ x 16′), a large prop room, actors/musicians/event management restroom and a (24′ x 16′) actor's studio. The actor's studio has a private dressing room and an area for applying make-up. It is also set-up to be able to monitor the activity on stage without seeing the space.
The rehearsal space on the third floor (24′ x 40′) is set-up to match the size of the stage. This area also has storage for our furniture and costumes for theatre productions.