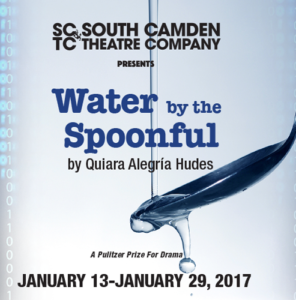 August 12, 2016 — AUDITION NOTICE – The South Camden Theatre Company
The South Camden Theatre Company will be holding Auditions for Quiara Alegria Hudes' Pulitzer Prize award winning play "Water by the Spoonful", directed by Ray Croce. 
The production will run from January 13th through January 29th.  A stipend will be paid.
Auditions will be on Sunday, September 25th and Monday, September 26th from 7:00 to 10:00 PM with call backs on Wednesday, September 28th also from 7:00 to 10:00 PM.  Auditions are by appointment only; non-equity only.
Characters needed:
Odessa Ortiz, Hispanic Female, 35-55
Elliot Ortiz, Hispanic Male, 22-30
Yazmin Ortiz, Hispanic Female, 25 – 35
John, Caucasian Male, 40 – 50
Clayton, African American Male, 50 – 60
Madeline, Asian American Female, 25 – 25
Man, Middle Eastern, 25 – 50, plays multiple roles
For an appointment please email our production manager Ashley Reiter with your resume and a recent head shot. Auditioners should prepare a two minute contemporary monologue; sides will be used during call backs.
The auditions will be held at:
The Waterfront South Theatre
400 Jasper Street, Camden, NJ 08104
The theater is easily reached from all Philadelphia bridges as well as the surrounding South Jersey area.  There is ample safe on-street parking with monitoring.