Support South Camden Theatre Company
& The Waterfront South Theatre
Artistic Director Raymond Croce Proudly Presents The Continuation Of Our Fourteenth Season – The Power Of Two!

THE BREATH OF LIFE BY DAVID HARE
Directed by Penny Reed
Starring Stacy Skinner and Julie Ann Marra
OPENING ON SEPTEMBER 6, 2019

Life being what it is, one dreams of revenge." Gauguin's epigram serves as the motto for this moral tale of two women, whose lives are interwoven in ways neither of them yet understands. Madeline Palmer is a retired curator, living alone on the Isle of Wight. One day Frances Beale comes to her door, a woman she has met only once, who is now enjoying sudden success, late in life, as a popular novelist. The result is a surprising and profound meditation on what can emerge when a man's wife and mistress finally confront each other.
__________________________________________________________________________
Anchoring Waterfront South's Art Scene
With the opening of the new Camden FireWorks, an artist loft space and gallery, and The Camden Shipyard and Maritime Museum, Brigid's House and the soon to be completed Nick Virgilio Writers House along with the existing artist studio of Mickey McGrath's BeeStill Studios, and Camden's Center For Environmental Transformation, and the Heart Of Camden Michael J. Doyle Field House, there is quite a lot to see and do.
Together we are building a strong community of arts, culture and family life here in the Waterfront South neighborhood of Camden.
The South Camden Theatre Company is a 501(c)(3) nonprofit professional theatre company dedicated to helping revitalize the City of Camden, New Jersey by producing meaningful, professional theater in the City's Waterfront South District. South Camden Theatre Company stages classic plays, comedies and original works as the resident theatre company at The Waterfront South Theatre.
Our Latest News
CAMDEN, NEW JERSEY – APRIL 5, 2019  – Schulner's An Infinite Ache is a fresh and heartfelt play about love, time and the infinite directions in which two lives can travel. This pair of lonely twenty-somethings are about to end a … Continued
Posted in
Uncategorized
Comments Off

on THE POWER OF TWO CONTINUES WITH AN INFINITE ACHE BY DAVID SCHULNER
CAMDEN, NEW JERSEY – JANUARY 16, 2019  – Artistic Director, Raymond Croce, tells us that he has chosen five very different shows for the fourteenth season at South Camden Theatre. All of his choices come from playwrights who tell their … Continued
Posted in
Uncategorized
Comments Off

on SOUTH CAMDEN THEATRE COMPANY PROUDLY PRESENTS SEASON FOURTEEN — THE POWER OF TWO! A Season Celebrating Playwrights From Across The Globe
The Areas Hottest Off-Broadway Theatre
The Waterfront South Theatre is situated just a block south of Broadway and Ferry Avenues in the Waterfront South neighborhood of Camden. This gorgeous state-of-the-art theater was designed to be reminiscent of Walt's Cafe, the corner bar, that once stood on this corner up until 1967.
Today, 96 seats and thousands of theatre patrons a year have replaced the bar stools and shipyard workers that at one time called this corner of Camden "home".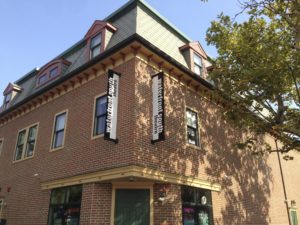 The Waterfront South Theatre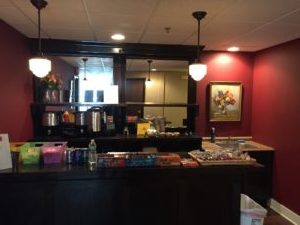 The Concession Area
Our wall of seasons. Images from all the theatre seasons since 2010.
The Domenica Hall Auditorium. 99 seats. Completely accessible.
CLICK to learn more about the Waterfront South Theatre and how you can use the space.
Funding has been made possible in part by the Camden County Cultural & Heritage Commission at Camden County College, through the New Jersey State Council on the Arts/Department of State, a partner agency of the National Endowment for the Arts.