"The Curious Incident of the Dog in the Night-Time
A Dazzling Production – great for the whole family!
NOVEMBER 3, 4, 5, 10, 11, 12, 17, 18, 19
Friday and Saturday evenings at 8:00 PM | Sundays at 2:00 PM
Winner of the 2015 Tony Award for Best Play.
15-year-old Christopher has an extraordinary brain: He is exceptional at mathematics but ill-equipped to interpret everyday life. He has never ventured alone beyond the end of his road, detests being touched, and distrusts strangers. Now it is 7 minutes after midnight, and Christopher stands beside his neighbor's dead dog, Wellington, who has been speared with a garden fork. Finding himself under suspicion, Christopher is determined to solve the mystery of who murdered Wellington, and he carefully records each fact of the crime. But his detective work, forbidden by his father, takes him on a thrilling journey that upturns his world.
Purchase your tickets for our shows here:
WHO'S WHO IN THE CAST
Jeff Pfeiffer as Christopher
He/Him
Jeff is thrilled to be making his South Camden Theatre Company debut! He would like to thank everyone involved in this production. He would also like to thank his family for their support. Recent credits include Dog Sees God (Dramatists Unite! Collective), Survivors (Theatre Ariel), The Diet Mocha Cola Variety Show (Brooklyn Comedy Collective), and Delco: The Movie, which will be released in 2024. BFA: The University of the Arts. @jeffpfeiff. as Christopher
Christopher David Roché as Ed
He/Him
Christopher is a Philadelphia- based, actor, singer, producer, director, and stage manager. He's excited to return to South Camden and reunite with Joel Gurerro for Curious Incident after performing as Rey in the 2021 SCTC show from Quiara Alegría Hudes' Daphne's Dive. Training: Albright College, B.A. Theatre (Acting/ Directing), B.A. History, Minor in Voice; 2004 Grammy Nominee, Jeffrey Lentz's, voicestudio. Theatrical credits: This Is Reading w/Lynn Nottage (LAByrinth Theatre Company); Ballad of Trayvon Martin as George Zimmerman, Othello: the Panther (Freedom Theatre), Camelot, Peter Rabbit (Sierra Rep. Theatre); Wizard of Oz, A Christmas Carol, Anything Goes (Shawnee Playhouse); Die Fledermaus (Berks Opera); Life on the Mississippi, No Easy Road to Freedom (Gretna Theatre); U/S Clyde's, 74 Seconds to Judgement, Streetcar Named Desire (Arden Theatre Company); Sense and Sensibility (People's Light & Theatre Company); Young Frankenstein (Walnut Street Theatre). Digital: Market Road Films, Hot Snakes Media, and Destination America.
Kelsey Hodgkiss as Siobhan
She/Her
Kelsey is thrilled to be making her South Camden Theatre debut with one of her favorite plays. Select regional: Media Theatre, Montgomery Theatre, Bucks County Center for the Performing Arts, Candlelight Theatre. Favorite credits include Bonnie Bonnie & Clyde, Bianca SHREW, Martha Spring Awakening, Nancy Oliver!. Along with performing, Kelsey is also a local teaching artist and TYA director. Big thanks to Joel and the team for this opportunity and lots of love to all of my family and friends.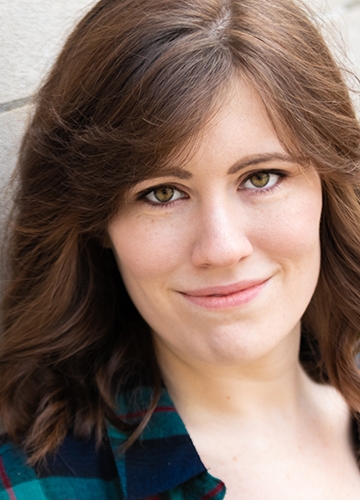 Neena Boyle as Judy
She/Her
Neena is delighted to be making her SCTC debut! Recent credits include Into the Woods (Jack's Mother) and The Sound of Music (Sister Margaretta/ Maria) at the Candlelight Theatre, Billy Elliot (Dead Mum) at Broadway Theatre of Pitman, and Rocky (u/s Gloria/Ensemble) at Walnut Street Theatre. BFA 2014 from UArts. Thanks to Joel and the entire Curious Incident team for the opportunity to tell this story, and love, as always, to Billy and Rita.
Genevieve Evans as Mrs. Shears
She/Her
Genevieve is a local actress from the Philadelphia area and is very excited about her debut at South Camden Theatre Company. Her most recent theater credits include Meg Magrath in Crimes of a Heart at Stagecrafters and Cherie in Bus Stop at Spotlight Theatre. Having completed her Associate in Theatre Arts at Montgomery County Community College in 2022, she currently pursuing a Bachelor's in Arts Management at UMASS Amherst. This academic pursuit aligns with her ambition to maintain a stage presence while also contributing her assistance behind the scenes. Genevieve extends her heartfelt gratitude to her loving family, her cherished friends, the cast and crew of Curious Incident, and Tim Gallagher for teaching her everything she knows.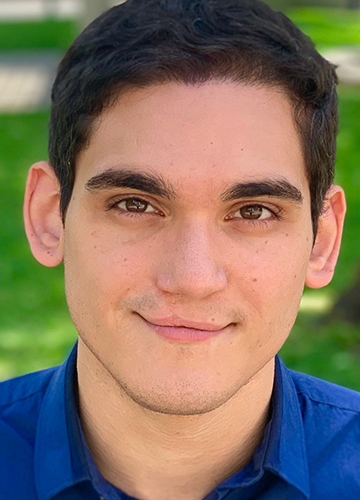 Anthony Diaz as Mr. Shears
He/Him
Anthony is a Philadelphia-based actor and graduate of Rutgers University, where he earned his BA in both English and Theater. In his Philly debut with the Latin X theater company, Teatro Del Sol, he played Creon in their production of Oedipus El Rey. He has also worked with Delaware Shakespeare Company, PAC, and South Camden Theatre Company and has performed in a number of readings with Theatre Ariel. Always happy to be working locally, Anthony is excited to be a part of Curious Incident. He'd like to thank his family, friends, and college mentor for their love and support.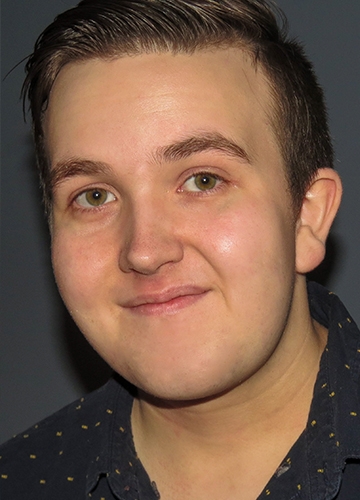 Cade MacFee as Voice 3
He/Him
Cade is elated to be making his South Camden Theatre Company debut. Previous credits include Hanschen in Spring Awakening (The Grand Theatre), Sean in Destiny Is A Careless Waiter (Ritz Theatre Co.), Dametas in Head Over Heels, Father Lux in Our Lady of 121st Street, Ram's Dad in Heathers, andCreator/ Choreographer of Universal Languages (Rowan University), Baker in Into The Woods, and Barfée in Spelling Bee (Players On Air).
Cade received his BA in Theatre from Rowan University in May and is currently working towards his MST in Theatre Education. Huge thank you to Joel for trusting us with your vision and the whole cast and crew for sharing your passion and talent. He hopes you enjoy the show!
Jens Petersen as Voice 4
He/Him
Jens is honored to be making his East Coast debut with the South Camden Theatre Company. A recent transplant from the Midwest, he was last seen in The Hunchback of Notre Dame (Ensemble, Westminster Presbyterian), Little Miss Sunshine (Uncle Frank, WCP/BHCT) and Rumors (Lenny, WCP/BHCT). Other credits include The Full Monty (Ethan), Little Shop of Horrors (Orin/Dentist), Stop Kiss (Peter, Scene D Theatre), Incident at Vichy (Leduc, UNISTA), and The Boys in the Band (Larry. The Hearst Center). He graduated in 2012 with a Theatre degree from the University of Northern Iowa and is also a cellist as well as a meteorologist. He is incredibly grateful for this opportunity to be a part of the growing arts community in this area.
Dana Liu as Voice 5
She/Her
Dana Liu is a multi-faceted artist originally from Egg Harbor Township, New Jersey. Some of her most recent credits include a reading of Acetone Wishes & Plexiglass Dreams (Philadelphia Theatre Company), a reading of Whispers of My Sister (PlayPenn Conference), and Backing Track (Arden Theatre Company). She is also certified in six disciplines with the Society of American Fight Directors and most recently received her Intermediate Certification with Fight Directors Canada in 2022. Dana is an alumna of Temple University and is thrilled to be making her South Camden Theatre Company debut! IG: @danaddliu
Susan Dewey as Voice 6
She/Her
Susan is thrilled to be returning to South Camden Theatre Company (SCTC). Previously, she had the pleasure of being in By The Water, Ripcord, Agnes of God, and Suddenly Last Summer here at SCTC. She has performed in many venues around the Delaware Valley. Some of her recent theatre credits include Abby in Arsenic and Old Lace and Bobby's mother in Crazy for You at Candlelight Dinner Theatre in Delaware, the real estate maven in I Hate Hamlet and the Conjur Woman in Dark of the Moon at the RITZ Theatre, the mother in Barefoot in the Park, Sara Strakosh in Funny Girl and Ethel Thayer in On Golden Pond at the Broadway Theatre of Pitman. Most recently she was a part of Shadowbox , Love Loss and What She Wore, and Crossing Delancey. Can I add that she loves this jobI Susan just won best featured actress at the Ritz Theatre and is a Perry nominee for Best Actress in New Jersey for 2022 for her role in Shadowbox. She can be seen on the PBS special, Maple Avenue and the movie Crutches. Her favorite role is playing Nana to grandchildren Joey, Rachel, and Jack. Thanks to this extraordinary cast and to Joel for giving her the opportunity to meet the characters and feel the effects of this exquisite dramatic story.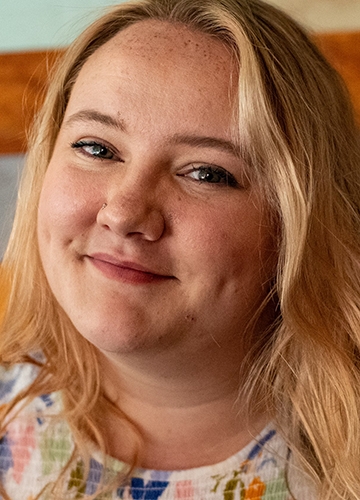 Becca Claire – Stage Manager
She/Her
Becca is a freelance theatremaker and event worker throughout Pennsylvania, New Jersey, and Maryland. Becca was a 2021 graduate of the University of the Arts in Philadelphia, where she got her BFA in Directing, Playwriting, and Production, with a focus on stage management and directing. She has been stage managing for nearly a decade, had her professional directing debut this past February, and feels very fortunate to get the opportunity to do this show at South Camden Theatre Company this fall. Recent theatrical credits include directing The Vagina Monologues (MST, 2023), stage managing Frozen Jr. (Walnut Street Theatre, April 2023) and Mannequin [A One Woman Show by Jennifer Blaine (virtual) May 2023 / Philly Virtual Fringe in Sept. 2023], as well as being a resident production manager for both touring and in-residence murder mystery shows with Without A Cue Productions from November 2022 – August 2023. Recent event credits include being the site manager at the Pixar Putt pop-up event at Penn's Landing (July 1 – Oct.1, 2023), involvement with Tedx Rutgers Camden branch (Jan. 2023), monthly Story Slams with First Person Arts in World Cafe Live and Underground Arts She is eternally grateful for the support of her family, both blood and chosen. She is also excited to announce that this production at SCTC will be her last in the region for a while, as she will finish off 2023 and head into 2024 pursuing her next adventure in Tampa, Florida!
Claudine Ayscue – Costume Design
She/Her
Claudine is excited to be working as SCTC's costume designer for this show. She joined the SCTC board of directors out of her love for theatre and a focus on Camden. Costuming pulls together her favorite hobbies — designing, sewing, and shopping. She has designed several shows here at SCTC. She has been thrilled to have Alisa and Pam's help shopping for this show. Love to my family for their support and best wishes to the cast and crew.
Pam Staley – Props
She/Her
Pam is delighted to be working in theatre with her friend Dawn Varava here at SCTC. Her past experiences included managing props and all things backstage for Dawn during many of her school productions. She has been jumping in to help SCTC be the best we can be for the last several shows.
Corey Goulden-Naitove Lighting Designer
He/Him
Corey is thrilled to be making his South Camden Theatre Company Debut. Corey is an award-winning lighting designer for the stage and screen. He holds an MFA in lighting design from Indiana University and a B.A. in theatre arts from the University of Maryland, Baltimore County. Originally from Philadelphia, PA, Corey's work has been staged all over the country including at The Glimmerglass Festival, Constellation Stage and Screen, Virginia Musical Theatre, Totem Pole Playhouse, The Classical Theatre of Maryland, The Charm City Fringe Festival, Indiana University, The University of Maryland, Baltimore County Departments of Theatre and Dance, Abington Friends School, and Long Lake Camp for the Arts. Corey is also the 2023 recipient of the ETC Graduate Lighting Design award from SETC for his work on IU Theatre and Dance's production of Natasha, Pierre, and the Great Comet of 1812. For more information visit www.coreygouldennaitove.com."
Meet the Director, Book Author and Playwright
Mr. Joel Guerrero — Director
He/Him
Joel is originally from San Angelo, Tx where he studied theatre education and performance. He moved to Philadelphia in 2012 to join Hedgerow Theatre as the resident comedic actor and children's education and performance Director. Recently he has been seen all around the greater Philadelphia area as an actor and more prominently as a director. His most recent work at South Camden Theatre was directing Daphnes Dive in 2021. A huge thank you to my loving and supportive wife Colleen and our beautiful daughter Raegan. He's very excited to be back at South Camden Theatre and looks forward to future programs in this wonderful space!
Mark Haddon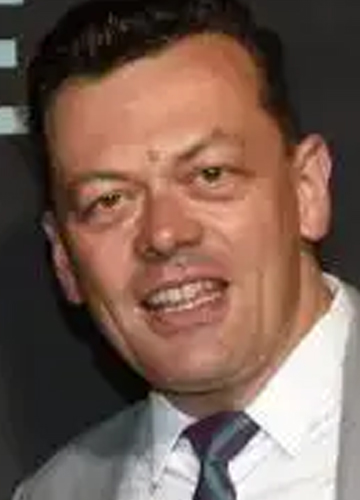 Simon Stephens
Based on the novel by Mark Haddon and adapted by Simon Stephens
He/Him
Mark Haddon is a recognized name in the contemporary English literature. His talent not only involves novel writing but extends to poetry writing, illustration and abstract painting. His major contribution to literature includes an adult novel, The Curious Incident of the Dog in the Night-Time.
Born on September 26, 1962, in Northampton, England, Mark Haddon was raised by an architect. He received his early education from Uppingham School and then went on to major in English Literature at the Merton College, Oxford. Upon completion of his studies, he became a caretaker for disabled people in Scotland. His experience of taking care of patients with multiple sclerosis and autism would later influence his literary writing. In addition to that, he did a variety of jobs, including at a theater box office, mailing office and as a cartoonist and illustrator. His works were illustrated in numerous periodicals and in a cartoon strip, "Men—A User's Guide".
In 1993, Haddon wrote the first book in his famous comical children's book series, Agent Z Meets the Masked Crusader. The Agent Z series is set in the present-day fictional city of Britain. Agent Z is not an actual character in the series but a secret identity adopted by three schoolboys when they play pranks on unsuspecting and bored people. Ben, Barney, and Jenks call themselves Crane Grove Crew and their mission is to fight boredom by unleashing Agent Z. The comical series contains four books, and one of the titles, Agent Z and the Penguin from Mars, has been adapted into Children's BBC sitcom, in 1996.
Haddon wrote his first adult mystery, entitled The Curious Incident of the Dog in the Night-Time, published in 2003. It is titled after a quote from Arthur Conan Doyle's Sherlock Holmes story, "Silver Blaze". The story is narrated from the first-person perspective of a 15-year-old Christopher John Francis Boone. He suffers from high-functioning autism, something Haddon had witnessed first-hand while caretaking patients. According to the author, the focus of the book is not the Asperger's syndrome itself but the difference it creates in the sufferer's life. The novel alludes to the refreshing outlook of a person with this syndrome and how their every experience has a surprising and revealing quality. Haddon's second adult novel, A Spot of Bother, appeared in 2006.
Simon Stephens is a prolific British playwright with an impressive list of credits both on and off Broadway. Born in Stockport, England in 1971, Stephens began his career as a teacher before turning to playwriting in the late 1990s.

Stephens' first major success came with his play "Herons," which premiered at the Royal Court Theatre in London in 2001. The play, which tells the story of a teenage boy who seeks revenge against a group of bullies, was praised for its raw, uncompromising depiction of youth violence. It won the 2002 Olivier Award for Best New Play and established Stephens as a major new voice in British theatre. Since then, Stephens has continued to write plays that explore the darker side of human nature. His work often deals with themes of isolation, grief, and the search for meaning in a chaotic world. Some of his most notable plays include "Pornography," which examines the impact of the 7/7 bombings on the people of London, and "Birdland," which explores the life of a rock star struggling with addiction and fame.

Stephens' work has been produced at some of the most prestigious theatres in the world, including the National Theatre, the Royal Court, and the Royal Shakespeare Company. He has also had several successful productions on Broadway, including "Heisenberg," which premiered in 2016. In addition to his work in theatre, Stephens has also written for television and film. He wrote the screenplay for the 2008 film "A Respectable Trade," which was based on the novel by Philippa Gregory. He has also written for popular TV shows such as "Holby City" and "The Curious Incident of the Dog in the Night-Time," which was adapted from his own novel of the same name. Stephens' most recent work includes the play "The Funfair," which premiered at the Manchester International Festival in 2017.
Funding has been made possible in part by the Camden County Cultural & Heritage Commission at Camden County College through the New Jersey State Council on the Arts/Department of State, a partner agency of the National Endowment for the Arts.