A Celebration of Love & Equality For Pride
This show is being produced in collaboration with
On stage June 2, 3, 4, 9, 10, 11, 16, 17
Friday and Saturday evenings at 8:00 PM | Sundays at 2:00 PM
Talk-Back Scheduled – Sunday, June 11th
Join us for a talkback with the cast and crew of STOP KISS immediately following the 2:00 PM performance. Moderated by Gauri Mangala, Associate Artistic Director of The Strides Collective, the discussion will include insight into the production process, the collaboration between South Camden Theatre and The Strides Collective, and how to support authentic queer theatre."
About the play…
"A poignant and funny play about the ways, both sudden and slow, that lives can change irrevocably,"
— Variety.
In this comic and dark play, two young women, third-grade teacher Sara, and radio traffic reporter Callie are best friends about to discover something new about their relationships. Callie is sick of her inability to connect with men more than through casual dating or sex, and Callie is beginning to realize she may be a lesbian. It shocks both of them, however, when they find themselves falling in love with each other. When they succumb to their desires and share a first kiss, the act provokes a violent attack from a gay-bashing stranger, changing their lives forever.
"Something as thought-provoking and ultimately moving as STOP KISS is a joy to experience."
— Star Ledger.
"There's so much that is vital and exciting about STOP KISS…you want to embrace this young author and cheer her on to other works…the writing on display here is funny and credible…you also will be charmed by its heartfelt characters and up-to-the-minute humor." — NY Daily News.
"…irresistibly exciting…a sweet, sad, and enchantingly sincere play."
— NY Times.
STOP KISS won the GLAAD Media Award for Outstanding New York production, a 1999 Obie Award, and Diana was awarded a Berilla Kerr Award for playwriting.
WHO'S WHO IN THE CAST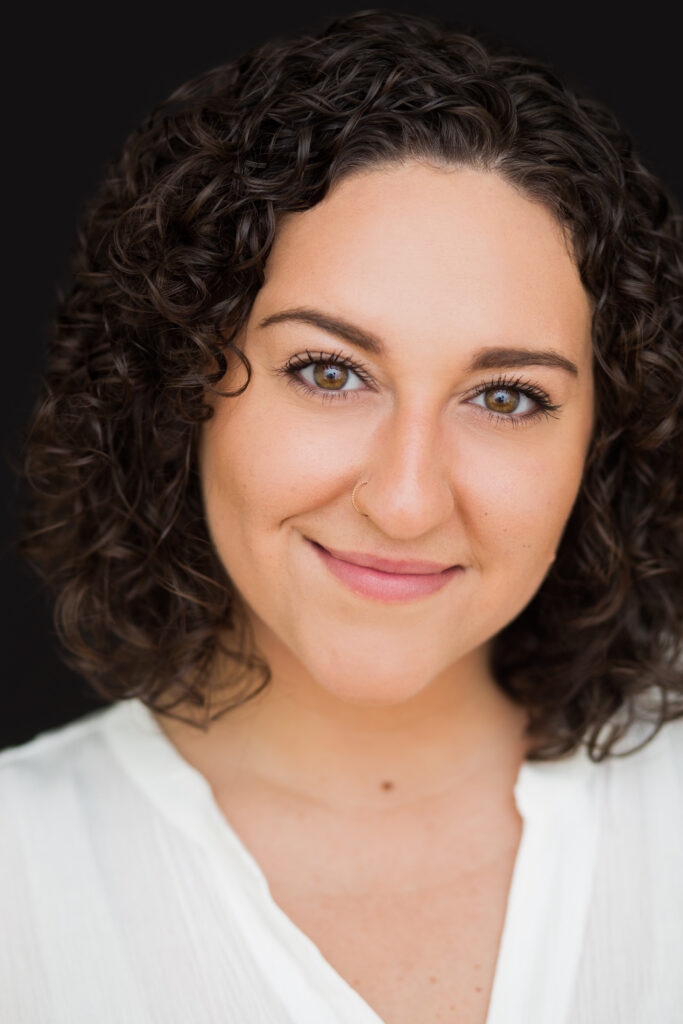 Dana Lee Capanna as Callie
Dana Lee Capanna (she/her) is absolutely thrilled to have been given this opportunity to retell the story of "Stop Kiss" with such an incredible group of people. In 2012, Dana graduated high school from the Gloucester County Institute of Technology, where she studied Theatre. She went on to learn American Sign Language Interpretation at Camden County College, and in 2017, she graduated from Rowan University with a B.A. in Theatre Arts. It has been a while since Dana has been on the stage, and she could not be more grateful to be doing it under the direction of Jonathon and with this cast and crew full of the most gracious and hard-working people. So many thanks and a lot of love to the folks in the audience for coming out and supporting the work that we've done, and as always, thanks to B & F for everything.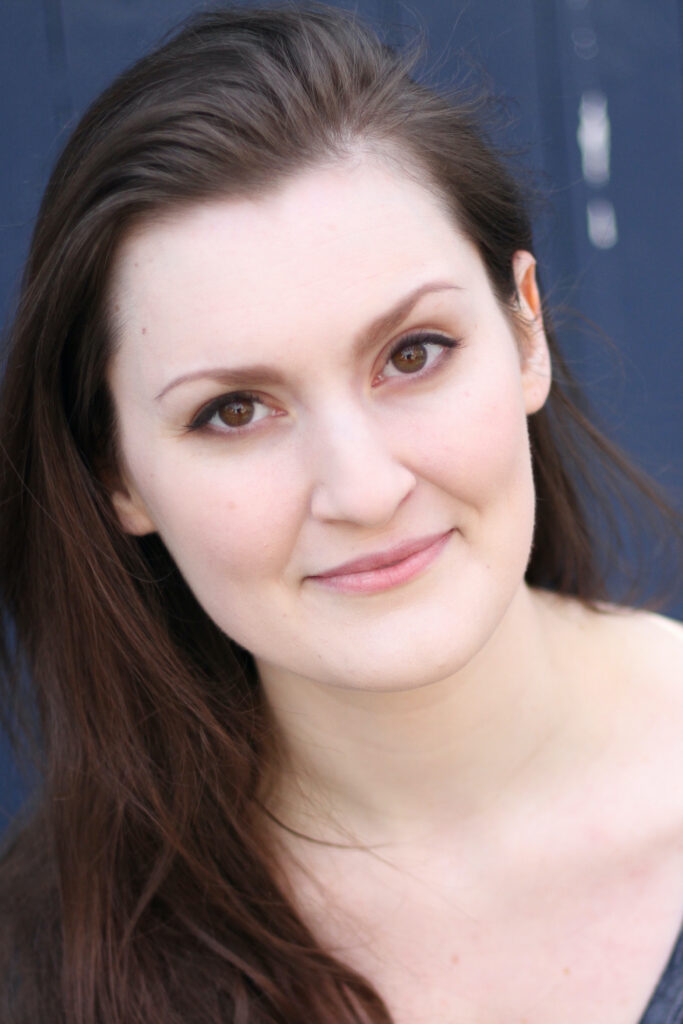 Lisa VillaMil as Sara
Lisa VillaMil (she/her) is an actor, playwright, teaching artist, and director in Philadelphia. Select training: The Royal Conservatoire of Scotland, M.A. Classical and Contemporary Text (Acting); Shakespeare's Globe Higher Education Acting Residency in London; Shakespeare Theatre of New Jersey SPTP acting apprentice. Select acting credits: Pericles (Shakespeare in Clark Park); Richard III (Hestia Theatre Company); A Christmas Carol (Walnut Street Theatre); Measure for Measure (Commonwealth Classic Theatre Company); Julius Caesar (Media Theatre); Wait Until Dark, Macbeth, and A Christmas Carol (Hedgerow Theatre Company); Romeo and Juliet and Julius Caesar (Ithaca Shakespeare Company); The Other Place (Tampa Repertory) Hamlet (RCS); National tour, Peter Rabbit Tales (Enchantment Theatre Company). Lisa will join Class 37 of The Old Globe & University of San Diego Shiley Graduate Theatre Program this fall.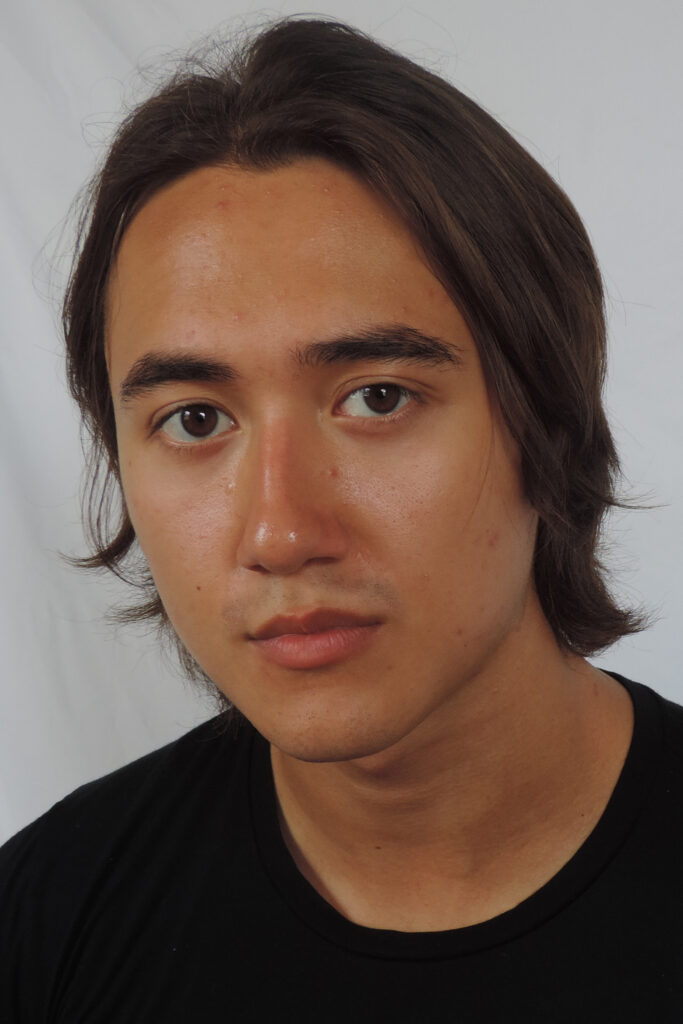 Daniel Burgess as George
Daniel Burgess (he/him is a recent undergraduate at The University of The Arts. He is debuting at the South Camden Theatre Company in collaboration with The Strides Collective. In the past year, he has been touring with Enchantment Theatre Company performing shows such as Peter Rabbit, Peer Gynt, Harold and The Purple Crayon, and The Brave Tailor. When he isn't acting, he is writing and performing his own shows while performing music with his band. He is honored to be a part of a cast of wonderfully talented people and telling a story that holds weight, love, and truth in today's climate.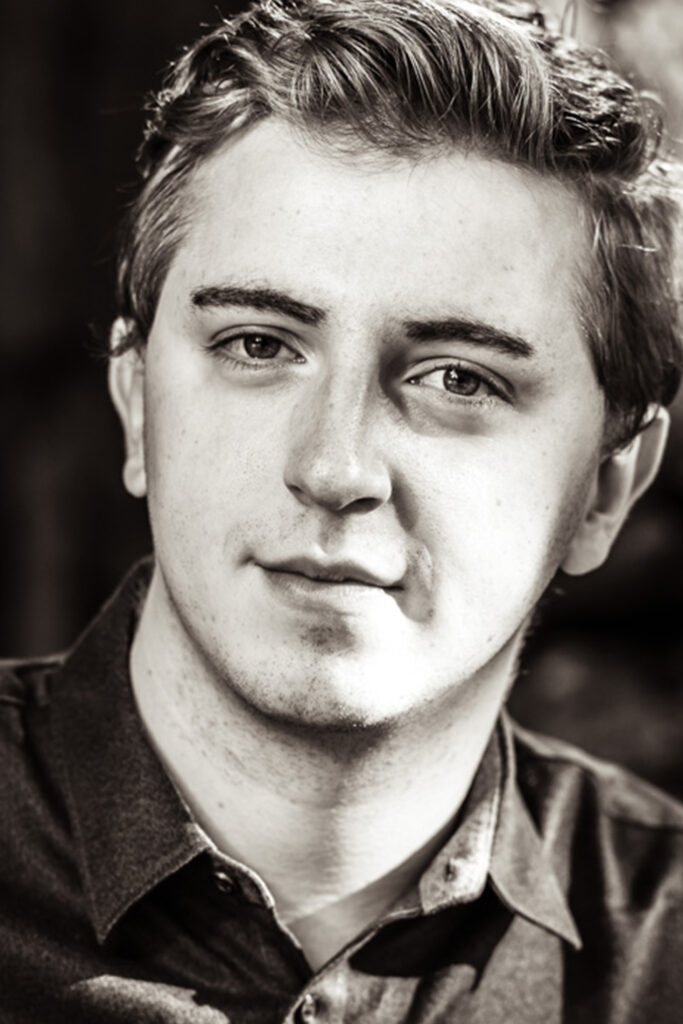 Christopher Cauffman Cooke as Peter
Christopher Cauffman Cooke (he/him) is ecstatic to be back on stage! Chris' recent credits include The Governess Ballet (Santa Mira Productions), The Glass Menage (Arden Theatre u/s), and Metamorphoses (Lone Brick Theatre). Training: BFA Acting Arcadia University, Estill Voice, Argent Combat. Chris would like to thank Jonathan, Cast & Crew, and South Camden Theatre for their warm welcome and this fantastic process. Please feel free to check out more at ccauffmancooke.com. For Mom, Dad, and Anna.
Tim Herman as Detective Cole
Tim Herman (he/him) is making his South Camden debut. Born and raised in Cinnaminson, Tim spent the last few decades living in California and NYC teaching theatre at various Universities and most recently, teaching 1-5 graders in NYC. He is also an audition coach and has had many clients appear on Broadway and Nat'l Tours. Favorite credits include Frankie Cavalier in Pageant, Fred/Petruchio in Kiss Me, Kate, Malvolio in Twelfth Night, Judge Turpin in Sweeney Todd, and Harold in The Boys in the Band. Tim also spent 6 summers appearing in The Lost Colony on the Outer Banks of N.C. Directing credits include: Batboy; the Musical, The Cider House Rules, Part 1, and Anything Goes. He attended Montclair State University and Florida State University. Thank you, Jonathan, The Strides Collective, and South Camden Theater Company.
Kathy Harmer as Mrs. Winsley/ Nurse
Kathy Harmer (she/her) is from Cheltenham, PA, performing in theater for over twenty years in and around the Philadelphia/South Jersey areas. Recent performances include Trixie St. James in Dogsbreath Devereaux; Raynelle in Dearly Departed; Barbara in Natural History and Bev/Kathy in Clybourne Park; Lady Caroline in A Woman of No Importance, Ginny in Two Things You Don't Talk about at Dinner and Martha in Book of Days; and Lula Young in the Mastermind of Murder series on the Oxygen Channel. Kathy is excited to perform for the first time at SCTC in this compelling play alongside such talent!
Meet the Director and Playwright
Jonathan Edmondson — Director
He/Him
Jonathan is the Founding Artistic Director of The Strides Collective and a freelance director and playwright from the Greater Philadelphia Area. His work as a freelance director has been featured on stages throughout Pennsylvania and New Jersey. Select directing credits include Sister of Mine (Upcoming – World Premiere with The Strides Collective), Sweeney Todd: The Demon Barber of Fleet Street, Xanadu, If/Then, Funny Girl, Proof, Rent, and The Heiress. As a playwright, his work has been produced with The Strides Collective, Frigid NY, Revolution Shakespeare, Jersey Fringe Festival, The College of New Jersey, Langhorne Players, The Ritz Theatre Company, and The Venice Island Performing Arts Center. Jonathan's plays highlight the modern queer experience, emphasizing that our shared humanity transcends our differences. Select playwriting credits include the pigeon., Whirlpool, The Diamond Peak Studio Sessions, Ignite, Expressed//Suppressed, and Strides.
After receiving his BA in Journalism and Professional Writing at The College of New Jersey, he completed the rigorous Professional Apprentice Program at Arden Theatre Company in Philadelphia. He is a proud member of The Dramatist Guild and The Queer Theatre Alliance. Jonathan's writing will be published in The Best Men's Stage Monologues 2023 through Smith & Kraus Publishers later this year. jonathanedmondson.com
Diana Son — Playwright
She/Her
Diana Miae Son is a Korean-American playwright, television producer, and writer. She was born in Philadelphia, Pennsylvania, to Korean immigrant parents and raised in Dover, Delaware. She notes her upbringing as "Americanized," commenting that it was not until she was a teenager that she noticed the differences between her culture and that of her friends. She completed her undergraduate studies at New York University, majoring in Dramatic Literature. As a college senior, she interned at La MaMa Experimental Theatre Club, an off-off-Broadway theatre and cultural institution.
Son's first play was called Wrecked On Brecht and was published in 1987. For eight to 10 years, she wrote and produced short plays in the downtown area of Manhattan. Her play BOY premiered at La Jolla Playhouse in 1996 and was directed by Michael Greif. Her first full-length play, Stop Kiss, debuted in 1998. It was critically acclaimed. The play was produced Off-Broadway in 1998 at The Public Theater in New York City. It was extended three times. Stop Kiss won the GLAAD Media Award for Outstanding New York Production. The play's initial run featured Jessica Hecht, Saul Stein, Sandra Oh, Saundra McClain, Kevin Carroll, and Rick Holmes. Son met Oh – who has participated in readings of every play by Son since they met – in 1995 in Los Angeles while involved in the New Works Festival.
Despite being a successful playwright, Son still worked temporary jobs. She is known for her roles as a television producer and writer since 2000.
She taught playwriting at various institutions, including Yale and New York Universities. She is a member of the Dramatists Guild of America, Women in Theatre, and the Writers Guild of America, East. Son is an alumnus of New Dramatists. Son has written much of her work (plays and television) at the non-profit urban writer's colony The Writers' Room in Greenwich Village.
Funding has been made possible in part by the Camden County Cultural & Heritage Commission at Camden County College through the New Jersey State Council on the Arts/Department of State, a partner agency of the National Endowment for the Arts.